Page Layout #3: A Top Heavy Data Refresh
On February 2014, Google rolled out another update for its Page Layout algorithm, also known as Top Heavy. The third version was a refresh to detect new pages with too many distracting ads within, especially "above the fold" or the first items on the screen that is viewable after a user clicks on the link in the SERPs. The team developed the filter due to complaints they received from users who were bombarded with promotions and had to scroll all the way down a website to view actual content.
What's It For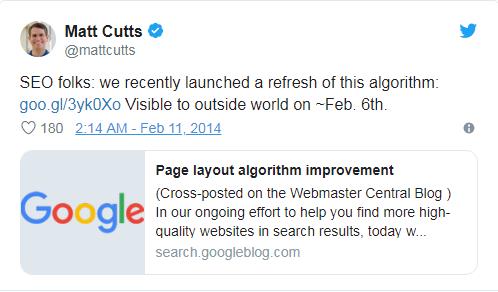 Matt Cutts took to Twitter to confirm that Page Layout #3 did roll out in February and was a refresh of the algorithm. The announcement implied that no additional signals were introduced; the filter only ran through the primary index to look for new pages that may have violated their quality guidelines.
Similar to Page Layout #2 which was implemented in October 2012, no specific modifications were announced for the third update of the algorithm. The filter's primary role is to assess a website's layout and evaluate whether there's an appropriate amount of ads and content or if it's imbalanced.
What Were Its Effects
Page Layout #2 affected approximately 0.7 percent of English searches. However, Google did not provide the scope of Page Layout #3's impact on queries. There wasn't much chatter in the forums about this update, though, unlike when subsequent versions of the Panda and Penguin algorithms rolled out. This could mean that the refresh did not have a significant effect on the SERPs.
What It Means for You
Site operators that focused too much on revenue through advertisements suffered tremendous losses in rankings and traffic volume for their domains, not just a few pages when the algorithm first launched. The underlying assumption is that websites should provide valuable content to users first; profit through promotions should come second.
Nowadays, there are a lot of factors that affect your site's Google ranking. One main area you should focus on is your on-page SEO which involves maximizing your HTML tags, content, URLs, site speed, and links to ensure that you get the most clicks out of each page.
Here's an in-depth look at each on-page SEO element:
Title Your title should include your primary keyword and its position must be as close to the beginning as naturally possible. Adding modifiers such as the current year and a description of whether your content is a guide or review can help your page rank for long-tail keywords related to your main search terms.
URL URLs should be readable by human readers to help them retain the title of your content and its general theme. Stick to a simple template such as: "www.sitesample.com/page-title/" instead of "www.sitesample.com/blog/2019-05-15/1dfei345n?=article=1309?43809/" which looks unappealing when it pops up beneath your title in the SERPs. It's recommended to keep your URLs short as well since this attribute has been found to rank better in search engines.
Content Incorporate multimedia such as images and videos along with text in your blog posts to attract readers and keep them engaged in what you have to say. These media can reduce bounce rates since they boost the time visitors spend in your domain.
Remember that you still have to include your keywords in your article, but it should be minimal and blend in seamlessly to your post's thought flow. As much as possible, drop the search terms you're trying to rank for in the first 100 words of your content.
Headers You can take advantage of headers to divide your blog post into sections that users can easily scan to find the exact information they want. These headers have a dual purpose: they improve your content's readability for human readers and allow you to boost the visibility of your primary keywords to search bots. Your title must have an

or the headline tag while you can use the and attributes for subsequent headings.

Design Regarding page layout, aside from ensuring that each part of your website has a balanced ads-to-content ratio, it should be responsive to the devices that your visitors are using to browse your content. You need to optimize for mobile since most users are on their smartphones nowadays. Moreover, boost your site speed to improve user experience by using caching, compression, and minifying processes.
Links Incorporate outbound links to authoritative and credible sources of information to support the claims you're making in your blog post. This is a ranking signal for search bots to determine the main topic of your content. Add internal links as well to help visitors find out more about the subject matter through previous articles you've published.

Subscribe to Updates
Stay up to date with the latest marketing , sales, service tips and news.
---