Exciting New Updates to Supercharge Your SEO Campaigns at NO-BS Marketplace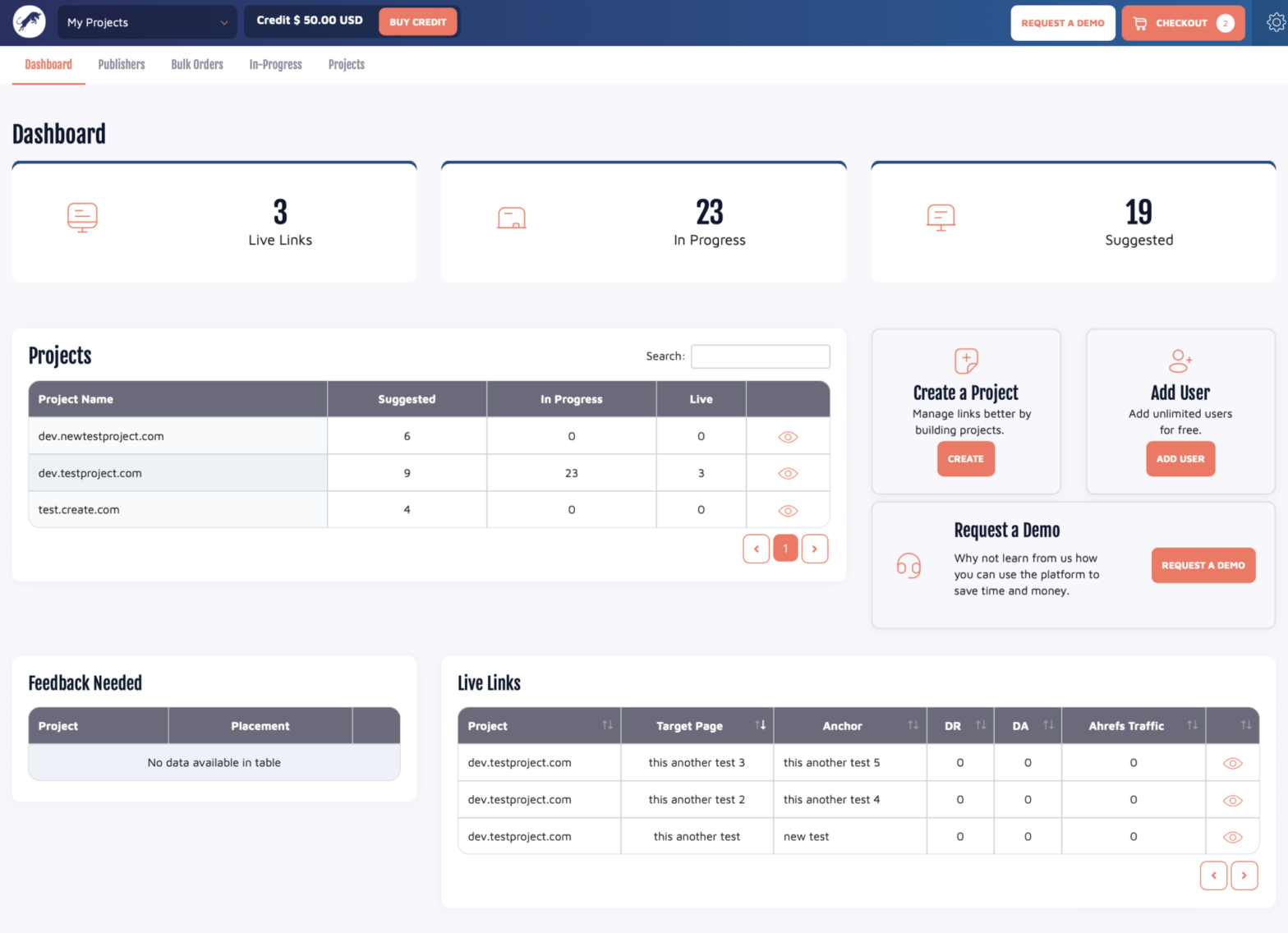 October 24 , 2023
Platform
Hey there! Tristan here from NO-BS, and wow, what a journey it's been! Can you believe it's been almost a decade since we kicked things off here at NO-BS? Time really does fly when you're having fun (and helping thousands of clients boost their SEO game along the way).
We've managed to grow this platform into a robust 8-figure SEO marketplace, and honestly, it's all thanks to you and the incredible community of SEO aficionados we've had the pleasure of collaborating with. Your insights and expertise have been instrumental in helping us stay ahead of the curve in the ever-evolving world of link building and SEO.
Now, I won't lie – the past couple of years have been a bit of a whirlwind for Aaron and me. We found ourselves deep in the trenches of managing teams and crunching numbers, which, while crucial, meant we were spending less time on what we're truly passionate about: innovating and enhancing this platform for all of you
But hey, we've realized it's time to shake things up a bit. We decided to take a step back from the daily grind and reconnect with our roots – and more importantly, reconnect with you, our valued users. We wanted to hear your stories, understand your challenges, and figure out how we can adapt and grow to better serve your needs.
And that brings us to now – a time of exciting changes and updates here at NO-BS. We're rolling up our sleeves and diving back into the world of product development to ensure we continue to provide the top-notch service and results that you deserve. So stick around, because we've got some pretty cool stuff in the pipeline, and we can't wait to share it all with you!
I've recorded a video and used ChatGPT to help you skim through the content, choose your medium of choice 😇
1.    Open Up Your Possibilities with Our Open Publisher List
Introduction to Open Publisher List
Ever felt like you just wanted to take the reins and browse through potential publishers yourself? Well, your wish is our command! We're thrilled to introduce our Open Publisher List, a game-changer that allows you to sift through our inventory of publishers with ease. We've always prided ourselves on sending you curated lists of publishers, but hey, we get it – sometimes you just want to do things your way.
How It Works
Ready to dive in? It's easy peasy. Just head to the platform, set your filters based on your preferences, and start your search. Whether it's location, niche, or any other criteria, we've got you covered. It's all about giving you the freedom to find the perfect fit for your projects, on your terms.
2.    Connect with Prestige: Introducing PR Links
The Power of PR Links
We've all heard that old saying, "It's not what you know, but who you know." Well, in the world of SEO, it's a bit of both. That's why we're super excited to roll out PR Links, a shiny new feature that connects you with top-tier, high-end news publications. This is big, folks – these are the kind of links that can really make a difference in your SEO efforts.
Find publications such as usatoday.com ,  dailymail.co.uk , Businessinsider.com and many more
How to Access PR Links
So, how do you get your hands on these golden tickets? Just hop over to your project and you'll find a dedicated list of PR Links waiting for you. We've worked hard to make them easy to find and even easier to use, so you can start reaping the benefits in no time.
3.    More Value for Your Investment: Revised Pricing
Understanding the Price Revision
We're all about providing value, and we're stoked to share that we've revised some of our pricing to make sure you're getting the most bang for your buck. Links under $200? You're paying less. It's as simple as that. As we've grown, our operational prowess has kept pace, allowing us to pass on the savings to you.
We've also rolled out a new volume discount structure, so if you're spending $2k+ per month on links, talk to us about how we can help you save some $$$.
How This Benefits You
What does this mean for you? More value, more flexibility, and more time to enhance your SEO campaigns without breaking the bank. We're committed to ensuring that NO-BS continues to be the go-to platform for all your SEO needs, and this is just one of the ways we're making it happen.
Here's a few examples.
1 activemyhome.com. – From $79 USD
2. workingdaddy.co.uk – From $79 USD
3 lifestylebyps.com – From $94 USD
4.certaindoubts.com – From $78 USD
Whew! That was a lot, but we're just getting started. From giving you more control with our Open Publisher List, to connecting you with prestigious PR Links, and rolling out revised pricing that puts more money back in your pocket, we're here to make sure you have everything you need to succeed. So go ahead, dive in, and start exploring all the exciting new features and updates we've rolled out.
Ready to get started? Log in to your NO-BS Marketplace account now and take these new features for a spin or book time with one of our friendly team members to discuss strategy and tour the platform.
As always, if you've got questions or need a helping hand, our team is just a message away. Let's make your SEO campaigns more awesome than ever!
Best,
Tristan Gray
Co-Founder, NO-BS Marketplace
P.S – I'm an introvert and I use AI on a daily basis to help communicate with folks in a genuine, direct and conversational manner 👊
Subscribe to Our Blog
Stay up to date with the latest marketing, sales, service tips and news.
---