5 Benefits Of Scheduling Orders When Link Building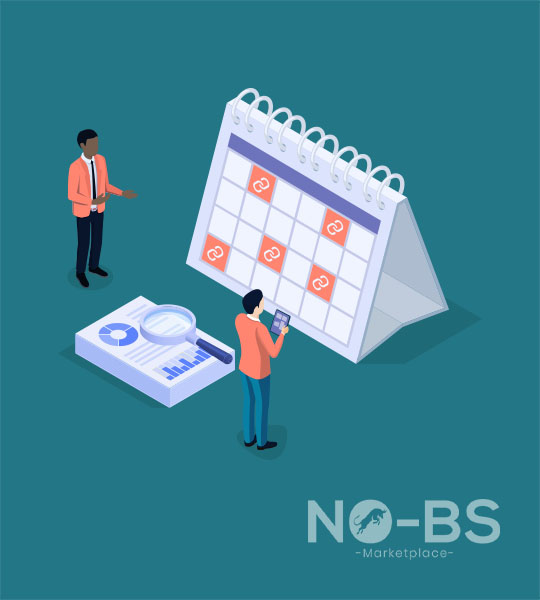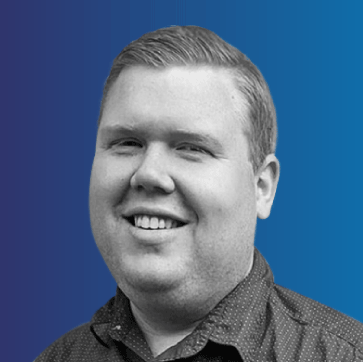 September 19 , 2022
Blogs
Link building is a powerful SEO method which helps you rank in search engines. It's used by many businesses and agency owners across the world to help compliment their SEO campaigns. However, one thing many link building agencies or platforms don't offer clients is the ability to schedule orders in advance. Most link building providers offer an 'order each time you need links' service. Why? Well this is how the industry has done it for years. But not anymore.
We're here to tell you the powerful benefits of scheduling your link building orders in advance in our free-to-use NO-BS Platform. Let's get started.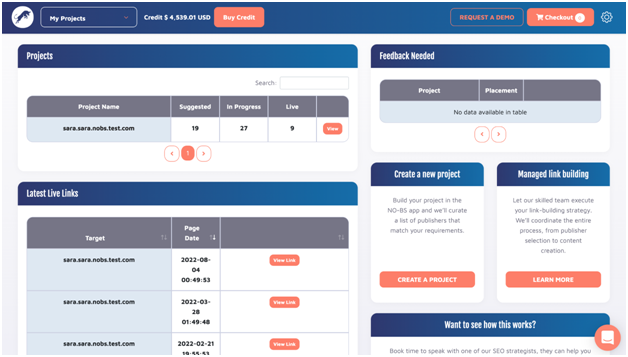 The Benefits of Scheduling Orders When Link Building
It Creates A Natural Backlink Profile
Scheduling orders in advance helps to create a natural backlink profile. When orders are placed at the same time, it increases the likelihood of all links going live on or around the same day. This can cause an unnatural backlink footprint. Why is this a problem?
If Google sees too many backlinks grown too fast to your website, they'll suspect you're either using black hat techniques or buying links in bulk. This could result in a penalty.
It can cause your rankings to drop if you purchase poor quality links in bulk. Spreading links out will help you work out which links potentially added ranking problems to your campaign.
Below are backlinks from Ahrefs which were added days or months apart making them appear natural.

When you create your link building strategy, consider scheduling orders in advance to help not just build links but to build a natural backlink profile.
Saves You Time
Whether you're an agency or business owner, scheduling your orders in advance will help save time. Most link building campaigns require month to month ordering. This can take up valuable resources each month. With the NO-BS scheduling system you can create orders every quarter. This additional time saving allows you to:
Improve client/customer relationships.
Work on new product offerings.
Find internal issues and resolve them.
Complete more work every quarter
Better Budgeting
Scheduling your orders in advance helps you budget your finances better. Once the budget is spent each quarter, you know how much money you have left over for other marketing services. With the NO-BS scheduling system if you can't pay for it straight away, no problem, just choose bank transfer at the checkout and pay a week or days before the orders are due to go into our production line. It's that simple.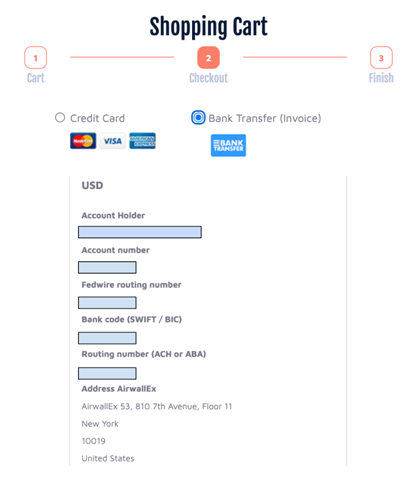 Easy To Use
The NO-BS scheduling system is easy to use. You can either order in bulk for the same date range by ticking the small square tick box at the beginning of each publisher to unlock the bulk action drop down.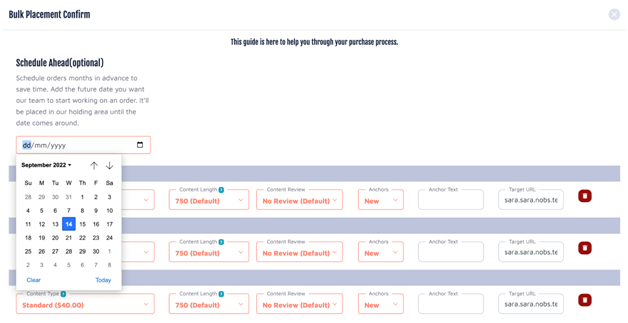 Or you can order one at a time and schedule the order for different dates.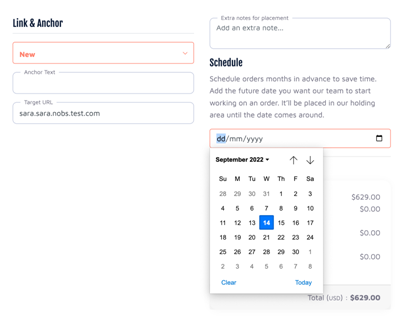 It really is that easy.
Better Planning
Campaign specialists know planning is everything. With our scheduling system it makes planning your link building campaign so much easier. If you have a client on a yearly retainer, you can easily map out all the publishers you want to use for the year. If anything changes, no problem we can stop or change the date for you. Planning and executing that plan is essential for a successful link building campaign.
Conclusion
Scheduling your link building orders ahead of time is now possible with the NO-BS platform. If you want to know more about this feature. Contact us today for more information.
Subscribe to Our Blog
Stay up to date with the latest marketing, sales, service tips and news.
---