Snippet Length Update: Increasing The Meta Description
In November 2017, Google decided to increase the length of the snippets or meta descriptions shown along with a page's title in the SERPs after two years of testing. From 155 characters, the limit rose to 300, which is almost twice as high as the previous maximum. The update is a move toward providing more valuable summaries to help users find the information they want to access.
What's It For
The developers rolled out the snippet display changes to make way for more descriptive and useful summaries. They hope that this will help searchers understand what the pages in the results are all about and how these are relevant to their queries.
Your page's meta description is crucial for your SEO since it serves to give users a taste of what's in store for them within your blog post. A compelling snippet has the potential to increase the click-through rate or CTR of a particular article. High engagement and interaction for your page can then boost your domain authority; establishing your brand as a leader in your niche.
What Were Its Effects
There were no indications that the increase in snippet length led to a shuffle in the SERPs. However, Google did not show the meta description created by the site owner. Instead, the search engine drew from the page's actual content using the text that appears at the top of the article.
Search Engine Watch observed that the first sentence and H1 appeared in the snippet. Subsequent sentences were also shown in the SERP meta description automatically pulled by Google.
Other queries, though, used the actual meta description provided by the site owner. In some instances, Google also displayed the alt tags for images as well as other text found in the HTML code.
These are the ways on how the snippet length increase impacted SEO:
A New Perspective on Optimizing Meta Descriptions With a 150- to 160-character limit on meta descriptions before the update, it was challenging to craft a compelling summary, especially for an in-depth article. With this improvement, webmasters are given more room to persuade searchers to click on their link.
Possible CTR Drop The increase possibly brought a disadvantage for some websites. This is because users may no longer be inclined to check out the links at the bottom part of the SERP even if these sites managed to land on the first page of the search results.
What It Means for You
Although Google rolled back the increase and shortened the limit again to about 160 characters in 2018, the search engine has always been clear that they place the users' wants and needs above everything else. That's why, all elements in your website must work together to provide something of value to its visitors; including your meta description.
Here are some tips on how to optimize your meta descriptions:
Take Note of the Limit Nowadays, Google displays 160 characters for your meta description. Follow this recommended length to give users a concise summary of what they can find in your content. As much as possible, avoid going past the limit since subsequent letters and numbers will be replaced with ellipses which don't really provide value to searchers.
Sell Your Page Speaking of value, your meta description acts like ad text for your blog post. More than offering a brief description of what's in store for users, you should write it in an engaging and compelling way to entice them to actually click on your link. The snippet should give searchers an idea of what benefits they'll gain from reading your article.
To help you sell your page, each meta description should be anchored on these two questions:
What is my page offering to users?
Why should they visit my page?
Another tactic is to check how competitors create their meta descriptions. Look at how they formulate their snippets and then use the information you gathered from your research to craft one that's even better.
Make It Sound Human There's nothing more off-putting to human users than reading something that's obviously written primarily for search bots. That's why keyword stuffing has never been a useful practice since it detracts from user experience instead of adding to it.
Craft your meta description in a way that lets readers feel that you're talking to them personally. Of course, you should still sprinkle your main keywords in the snippet but be strategic and don't overdo it. Moreover, make it sound as natural as possible and write in a warm tone to encourage readers to go past the threshold and into your virtual domain.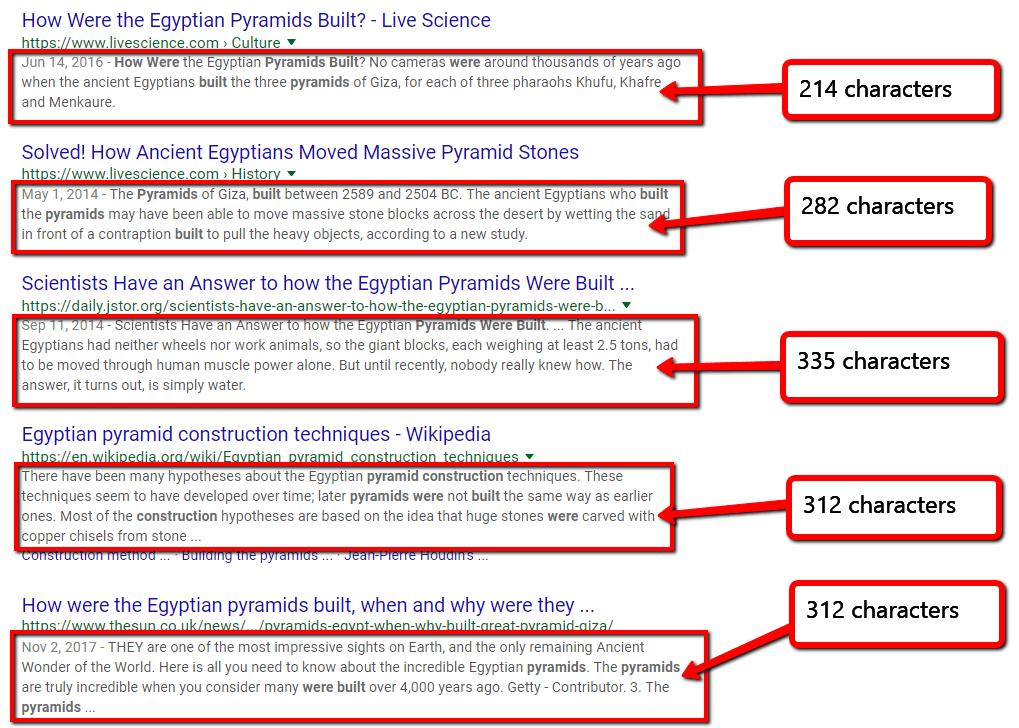 Subscribe to Updates
Stay up to date with the latest marketing , sales, service tips and news.
---