Search + Your World: Incorporating Real-Life Relationships In Results
Search + (pronounced as "plus") Your World pushes for more personalization by incorporating Google+ social data and user profiles into the SERPs. It rolled out on January 10, 2012 as an algorithmic and infrastructure update.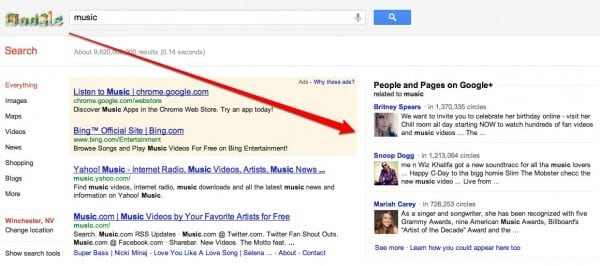 What's It For
Google transformed the search engine into more than a platform that delivers relevant results for your query. With the update, it incorporates what people in your circle are searching for and talking about.
Improving on Social Search, Google introduced these new features:
Personal Results – It allows you to discover information that's personalized just for you. You can find Google+ photos and posts from your gallery or those shared by your friends, which you alone can see in your SERPs when signed in.
Profiles in Search – Google also made it easier to find old acquaintances or people whom you might be interested in following. The search engine displays important names in autocomplete and results.
People and Pages – This section helps you find the Google+ profiles and pages of influencers in a specific topic or industry so you can follow them.
Google admitted that it emphasized security and privacy for Search + Your World because of its personalization features. They've secured users' queries and all personal content through SSL encryption and has made it the default setting for signed-in users.
Additionally, users are given more power to customize their search with interface elements and control settings. One significant update is the label that informs you whether a result can be viewed by the Public, a Limited audience, or only by you. Profiles in the SERPs can be identified with the Google+ circle they're in or as suggested connections from people already connected to you.
What Were Its Effects
The Search + Your World feature got criticisms for prioritizing Google+ profiles over Facebook and Twitter, which were already popular at the time. When searching for a particular artist, the search engine would highlight their Google+ data in the displayed results. This posed a problem for prominent people who haven't created an account in the platform.
Nonetheless, creating Google+ profiles were helpful for brands mainly if they established connections with people on the platform since it boosted their rankings on the SERPs once a user searches for keywords associated with them. This is because the update prioritized posts and pages that are in peoples' circles.
What It Means for You
Google+ was recently discontinued this April 2, 2019, because of low user engagement. Currently, Facebook, Twitter, Instagram, and YouTube are dominating the social media scene. It means that you can engage with your current and future customers on these platforms. While these platforms don't necessarily boost your rankings on the SERPs directly, it does provide indirect opportunities for your brand's growth.
Here are three social media strategies you can use for your brand:
Discover Linking Opportunities – Social media links don't have as much SEO juice as the ones you get from organic link building. Opportunities for this practice abound in your social networks, though, so maximize the promotion of your content to get backlinks from potential partner blogs.
Make sure that you create content that encourages your subscribers to share it to their friends; thus, expanding your reach to new audiences. Optimize all elements of your blog post for social media such as choosing an attractive thumbnail, crafting an attention-grabbing headline, and writing a compelling description for your tweet or Facebook post.
Engage with Your Target Market – Your current customers can use social media to vent out their frustration over your services or praise your brand. Ensure that positive mentions outweigh the negatives. Of course, address your critics and find ways to make up for the inconvenience they suffered to elevate people's impression of your company.
If your company resources allow it, have a dedicated team or person monitor your social media mentions to ensure that you take advantage of this type of publicity. Promote your brand-specific hashtags to make these tweets and shares easier to locate among millions of social media posts made each day.
Build Strategic Partnerships – Aside from finding link building opportunities, you can also build valuable relationships with your fans, influencers, and other brands on social media. These partnerships can open up new avenues for your brand and allow you to expand your reach toward your target audience.
You may find potential collaborations on high-profile brands that discover your products and services through social media. This can catapult your company to new heights and a bigger customer base.

Subscribe to Updates
Stay up to date with the latest marketing , sales, service tips and news.
---