Google AdWords Update: More Ads Above The Fold
In February 2016, Google confirmed that they're rolling out a structural update for ads in the SERPs. AdWords will now be displaying four paid links above the fold and remove the sidebar. There are still three ads shown at the bottom of the page.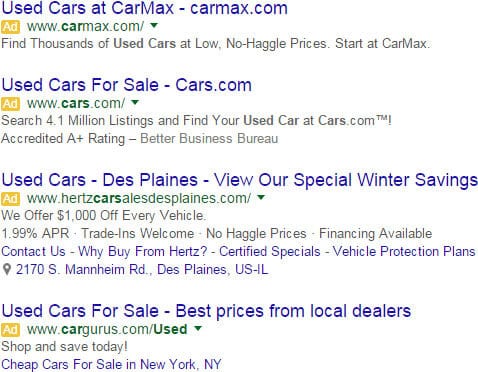 What's It For
Google AdWords is a platform developed for companies to promote their products, services, content, and apps to potential customers through the search engine's network. It was launched in 2000 and has become one of Google's primary channels of revenue.
These are the three factors that determine the cost of a Google AdWords campaign:
Bid – Your bid is your budget per ad visit.
Ad Quality – It's a combination of the value and relevance of your ad to where it's linking to.
Format and Extensions – This element pertains to the relation of your ad extensions or call outs and formats to the site.
With this update, the ads are displayed prominently above the fold; taking up SERP real estate at the top of organic search results. Each paid ad still includes sitelinks, but it wasn't confirmed whether the number increased or not.
Moreover, sidebar ads have been removed for desktop viewing. This may be due, in part, by the move towards making the search results pages more mobile-friendly since a smaller screen favors vertical scrolling rather than horizontal. The team appeared to be standardizing its advertising design for all devices.
What Were Its Effects
Google admitted that they initially rolled out the update for highly commercial queries, which they defined as searches done by consumers who have a deep intent to purchase goods or services. The changes were launched globally, affecting all countries.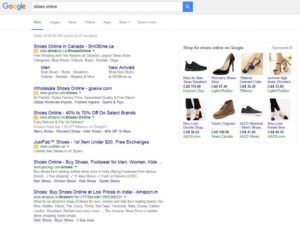 The number of overall ads shown in the SERPs reduced from as many as 12 or 13 to seven; four on top and three at the bottom. Sidebar ads continue to appear from time to time, but it only displays product listings.
The update has increased the competition for keywords with high search volume. It also led to concerns about a drop in organic traffic for those who aren't paying for the advertising service.
What It Means for You
2018 was a big year for the search engine's advertising platform. They've rebranded the service and is now calling it Google Ads. The team also rolled out a significant structural change through expanded text ads. This feature allows for a more detailed description of your link. These give you a more substantial real estate in the SERPs than the old promotional banners to boost your site's performance for mobile searches.
The developers tested this feature as early as 2016, around the time when they removed the sidebar ads and displayed four paid links on top of organic search results. It was a move to cater to more mobile searchers. When the update rolled out, the expanded text ads feature reportedly increased click-through rates or CTR by more or less 20 percent.
Here are the expanded text ads upgrades you can enjoy:
Bigger Headlines – Before, there was a 25-character limit on the headline. With the update, it increased to two headlines with a maximum of 30 characters each.
Longer Descriptions – The new update improved the description into a consolidated 80-character snippet from the previous two 35-character lines.
Smart URL Display – This feature is a boon for webmasters since the search engine now automatically extracts your link from your domain to boost accuracy and consistency while still giving you the option to customize the URL path. Before the update, SEOs had to enter the URL manually and any mistakes would lead to the disqualification of your advertisement.
To maximize your Google AdWords SEO, you should boost your Quality Score or how Google rates the value that your keywords and pay-per-click or PPC ads offer to users. It depends on the following factors:
CTR
Keyword Relevance
Landing Page Quality
Ad Text Value
Previous AdWords Performance
Improve your Quality Score by:
Being Diligent with Keyword Research – As mentioned above, the relevance of your keywords can influence how Google rates your content and ads. Look for appropriate search terms that you can use for your brand, including long-tail ones.
Organizing Your Campaign – You can categorize your keywords into groups and tie related search terms to individual ad campaigns.
Testing Your Ad Text – Refining your PPC ad copy to make it more targeted toward individual ad groups can boost your link's CTR and increase your Quality Score.
Improving Your Landing Pages – Create landing pages that encourage your target market to do what you want them to do. Offer a consistent experience from keyword to conversion.

Subscribe to Updates
Stay up to date with the latest marketing , sales, service tips and news.
---