Expanded Sitelinks: In-Depth Navigation
On August 16, 2011, Google rolled out the expanded sitelinks feature which helped users navigate through a website right in the search results pages. It displayed vital sections of a brand's domain and gave them direct access to the specific part of the site they need to open.
What's It For
Sitelinks have been around for quite some time, but it was only during this update that Google tapped into the feature's potential to bring more value to users. These hyperlinks are useful in directing searchers to the most relevant sections of the site, especially those with a large and complex navigational structure.
For example, if you typed in a query for the Metropolitan Museum of Art, the update now enables the search engine to display essential parts of the organization's website which you can click to access it directly. Links to exhibitions, general information, the Met store, and the museum's contact page are shown. You can even view career opportunities from the company if you desire.
This update overhauled the layout of the sitelinks in the SERPs. Before, four links were arranged in one line which can be quickly dismissed by users. Now, the different sections are placed in a column for better readability and come in full-size links with a URL as well as a snippet of quick description. The team also added more sitelinks for each search. The maximum number moved up from eight to 12.
What Were Its Effects
Expanded sitelinks particularly helped brand-related queries since it allowed users to go directly to the part of a company's website that contains the information they need. Google also implemented significant improvements in the algorithm by integrating sitelink ranking with regular result ranking to provide searchers with high-quality links. It reduced link duplication and led to better organized SERPs.
What It Means for You
Today, Google still displays expanded sitelinks for brands. For example, searching for "museum of modern art" shows the organization's official website and its sections such as the links to the MoMA design store, exhibitions, collection, calendar, admissions, and ticket sales.
However, the search engine doesn't display sitelinks for all brand websites. Meanwhile, others get sitelinks and an additional search box that allows users to find information within that domain quickly. This doesn't mean that Google is playing favorites, though, what it indicates is that the structure of some sites make it difficult for bots to find their sitelinks or, in some cases, the sitelinks just aren't relevant to the search.
Sitelinks are crucial for SEO because they help improve CTR or click-through rates. Plus, it also enhances how users perceive your authority and credibility as a source of information since you put a lot of thought into the structure of your website.
Here are a few tips to help boost the chances that Google displays your sitelinks when users search for your brand:
Create a Clear Hierarchy and Structure for Your Website – Websites that have an intuitive flow and straightforward structure makes it easy for search bots to crawl through your domain and content. Typically, your homepage should be the starting point of your visitors' exploration to other pages. Make your site understandable by having an organized hierarchy of the pages.
You can also use internal links strategically. Incorporate them in each of your posts to subtly direct readers to related pages and, ultimately, to your product catalog. Moreover, it's recommended that use concise yet descriptive text to give visitors an exact idea on what's in store for them when they check other sections of your website.
Prioritize Ranking for Your Brand Name – A unique brand name makes it easy for you to get the top position in the search results when people look for your company online. You still need to put in the effort for this step since getting the first spot can improve the likelihood that Google includes your sitelinks when it displays the link to your website.

To rank for your branded keywords, you just need to do the same SEO practices but for these particular search terms. You still need to do keyword research to determine which words will work well with your company name and optimize your current pages where you can incorporate these key phrases.

Upload a Sitemap.xml File to Google Search Console In your Google Search Console account, add a sitemap.xml file for your website to inform the search engine of the flow and structure of your domain. This tactic can help boost the chances that your sitelinks will be displayed in the SERPs.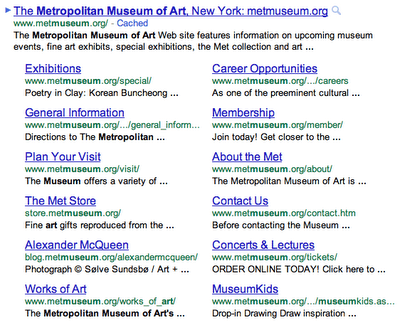 Subscribe to Updates
Stay up to date with the latest marketing , sales, service tips and news.
---