Why Link Building Shouldn't Be Ignored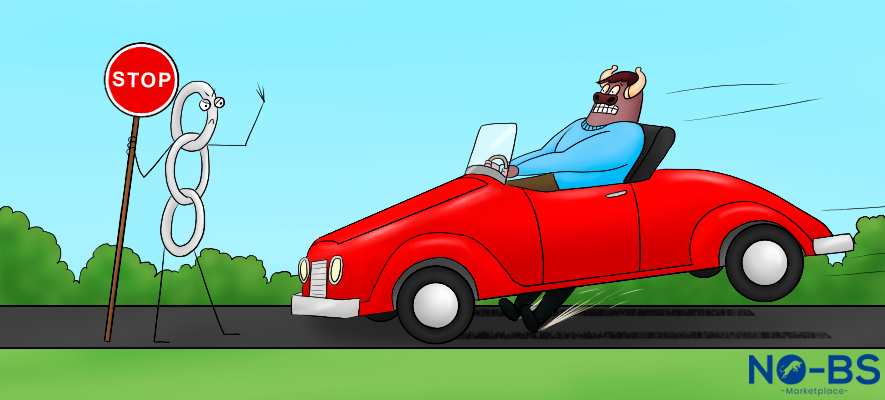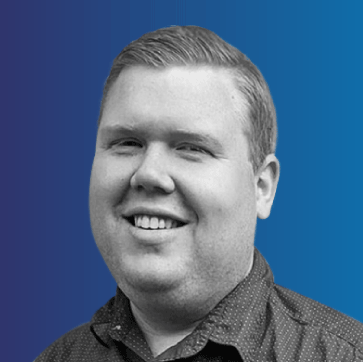 December 15 , 2020
Blogs
It's easy to focus all of your energy towards the on-page aspects of SEO. These key elements are so heavily documented and historically, the most transparent parts of the optimisation process. On the contrary, link building has, for the better part of SEO's entire lifespan, been shrouded in secrecy.
'It's our IP,' agencies say.
'We can't show you the domains of our publishers up front to protect their privacy,' link providers say.
These are both valid reasons; however, this combination has created the perfect storm. Agencies can't share their link–building efforts with clients, and often resort to black-hat link farms or mutual link acquisition. In–house marketing teams run into brand-reputation issues by not knowing exactly where their client's in–bound links will be placed.
As a result, the link building space is riddled with poor quality craftsmanship and dodgy practices, leading to eventual consequences from search engines, such as penalties, sandboxing and outright SERP-removals.
So, what's the solution? Ignore link building and pray you get organic backlinks from skyscraper content? Keep pushing blog content live, week in and week out, hoping it gets traction?
As my dad would say: 'hope isn't a strategy, Lachlan!'
If you want to move the needle in Google for competitive keywords, content alone is not going to cut it. It just won't. I'm impressed with your can-do attitude, but I'm here to let you know that there's a better way.
First, you need to understand exactly why your inbound link profile is important.
Link building is

the

backbone

of

your website

'

s authority
'Build it and they will come,' is the mantra behind many websites that only prioritise on-page SEO. The truth is, you can construct the Taj Mahal of websites, but if no one can find it, you'll never get sales, traffic, or positive outcomes. And how do you get noticed? By establishing authority.
Authority websites are those that are well-trusted by field experts, site users, and – yep, you guessed it – search engines.
There are many factors that go into building a website's authority. Domain authority (DA) is a search engine ranking system which assigns a score to a website based upon how likely it is to appear on the first search engine results page (SERP). The scoring system ranges from 1–100 – the higher the score, the more likely the website will appear in the search results. This scale also takes into account over 40 different elements including link data, age, popularity and spam. For example, a website with a domain authority of 90 makes it a high-value earned link. The higher the authority, the better.
With there being nearly 2 billion websites on the world wide web, competition is steep, to say the least. Having high-quality content and a well-designed site are both equally important – however, these two factors aren't enough if you want your business to retain long-term authority over your competition.
So, what's the secret ingredient to building this long-term authority?
Link building.
What is

l

ink

b

uilding

and

w

hy

are links

i

mportant

?
Link building is the process of getting other websites to link back to yours. Even though link building is often overlooked in favour of investment in content or on-page SEO, it's one of the best ways to build authority.
Remember those 2 billion websites? Well, they're just one reason why link building is important. If you want your business to thrive online, you have to harness the power of high-quality links better than your competitors. They're the '80' in the '80/20' rule, which implies that 80% of the outcome comes from 20% of the cause. Link building is the engine in a well-oiled SEO machine. The more quality links pointing to a particular page or website, the better your chances of ranking higher on SERPs.
1. They

can make

o

r

break

your site
Despite its importance, link building is considered one of the hardest parts of maintaining long-term authority. For a long time, backlinks were considered a black or grey-hat practice, due to the ability of SEO'ers to gain them via dodgy means, such as hacking or link farms. Unfortunately, many companies have fallen victim to these practices, investing money in SEO'ers that promise the world, only to have their search rankings tank rather than soar.
For example, in 2011, online retailer Overstock was penalised for giving university students and faculty discounts on products in exchange for posting Overstock links. As a result, the company stopped appearing in search results where they used to rank highly for items such as laptops and vacuums. This practice violated Google's guidelines, and they were punished accordingly. The recovery process can take weeks, months or even years before the issue is resolved.
But just like they can harm your site, they can also greatly boost it.
To give you an example, I typed 'travel blog' into Google, knowing I'd be flooded with sites. Ahrefs considers this to be a hard keyword, as countless wannabe travel influencers are competing for attention.
The first organic search result that came up on page one was Nomadic Matt.

Then, I plugged this domain into Ahrefs.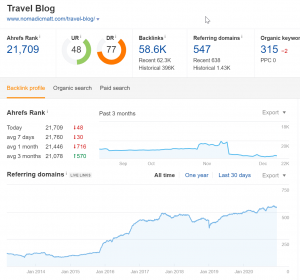 Now, let's compare our friend Matt's website to a blog on page three of the search engine results.

In contrast, here are the Ahrefs metrics for the page on Vicky Flip Flop's travels.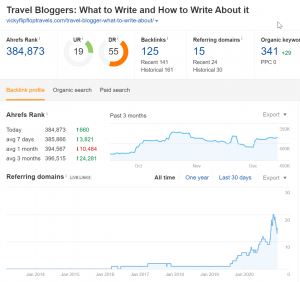 As you can see, Vicky has over 100 backlinks – a respectable amount – but is still ranking on page three. Matt, meanwhile, has almost 60,000.
2. They

create domain and page authority
Google's algorithm analyzes the keywords on your website to help categorise your content appropriately. In a perfect digital world, if your page utilises the keywords that a user types into a search engine, your page should show up at the top of the results. However, with millions of other sites using the same keywords, you have to establish page authority for Google to decide which site gets to show up first. Link building helps establish page authority, thus increasing your chances of being displayed for the search query.
3. They

generate

referral

traffic
If your content is shared and linked on a relevant website, surrounded by relevant content, users are more likely to click on the anchor text and visit your page. This process fosters a sense of trust, which is a key part of long-term authority.
4. They

increase brand

visibility
Guest posts benefit both parties involved. By acquiring valuable backlinks, you'll draw in a new segment of online visitors than what you had previously. On the other hand, the publishing site gets to add more quality content to their site.
Now that you have a better understanding of link building, you can take this knowledge and apply it to your website. If you want to learn how to create a long-term link building strategy, check out this article.
The

million-dollar

question: can you link build safely AND impact SERP

s

?
Of course, you can! Although, if you read this far, I'd hope you came to that conclusion on your own.
As with all things marketing, a strategy is key to success. Simply building links to your homepage is no longer the effective tactic that it used to be. It's time to pivot.
Before investing heavily in link building, make sure you plan out your overarching objectives – both for SEO and for your website as a whole. Then, you can work on link structures and implementation.
That's where the NO-BS Marketplace comes in. Rather than spending your valuable time outreaching publishers, building connections, acquiring links and tracking their status, let us take care of the nitty gritty for you. You can leave all link quality issues you've faced in the past, and focus on the management of your site or business.
Our cutting-edge web application allows you to create projects, track their status, liaise with staff and view live links, all in one place. You can even view the URLs of our publishing partners prior to purchase – a level of transparency unmatched by other providers.
Subscribe to Our Blog
Stay up to date with the latest marketing, sales, service tips and news.
---